Dr Andrew Sansom PhD Pharmacology - Research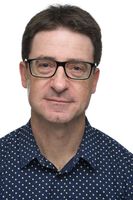 Andrew heads up our Research Division.
Andrew comes from a research and teaching background in biomedical sciences and his research has been published in respected international journals (more than nineteen publications to date). Andrew has received a number of awards, including a Health research Council of New Zealand Post-Graduate Scholarship for doctoral study. His current interests include lipid mediators and inflammation.