Clemence Darricau - Study Intern Bordeaux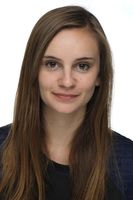 Clemence joined our team for a three and a half month internship from Bordeaux Sciences Agronomy School.
Clemence was immersed in researching some key bioactive proteins in our Milk Fat Globular Membrane (MFGM) Project. Despite English being her second language, Clemence fitted into our team seamlessly and contributed immensely to this project. Her project was so good, that on return to Bordeaux, she received the highest mark in her class. Well done.